The 10 Best Minimalist Watches

Classic and Simplistic Time Tellers
Since the prehistoric era, people have had an ongoing fascination with observing the passing of time. However, the standardization of time keeping didn't come into the average person's everyday life until train networks were introduced in the 18th and 19th centuries, requiring precise departure times that could only be measured by a clock.

Fast forward to the modern-age: we all still continually depend on time to arrive at our destination in a timely manner or to simply make it fifteen minutes early to an appointment. With wristwatches making a comeback, especially those with simple, yet sophisticated designs, you can expect versatility in style and comfort for continual wear.

Your time is valuable and searching for the perfect wristwatch can be a daunting task, so we've crafted a list of our 10 favorite minimalist watches, each with their own unique features. Scroll to find the best timepieces for your style and price point.
Winston Deco Watch from Komono
Komono: Winston Deco Watch in Dove
Komono designed the Winston to be your go-to watch when putting together an outfit every morning. The Deco Watch combines class, elegance, and modern elements from the art deco era. This anti traditional design is both sophisticated and sleek, making it ideal for any day or event. With a genuine leather wristband and stainless steel back, you can expect long lasting durability and strength without breaking the bank.
Ventara Watch from Bertucci Watches
Bertucci: Ventara Watch
Perfect for someone who is always on the go, this Bertucci Watch is built with the promise of high performance. The Ventara combines style and dependability with a striped nylon band and stainless steel case. Swiss super luminous hands and markers are complimented by an all-metal Japan made quartz movement. This watch will not disappoint, no matter what the adventure holds.
Past, Present & Future Watch from Projects Watches
Projects Watches: Past, Present & Future Watch is Black/Steel Mesh
Designed by computer graphics pioneer Daniel Will-Harris, this unique watch reminds us that the time is now, what's past has past and the future doesn't exist yet. A black stainless steel 44mm case and steel mesh wristband give this watch a finishing touch of simplistic beauty. By only showing the current time, this piece from Projects Watches will change your perception of time, because "there is no time like the present."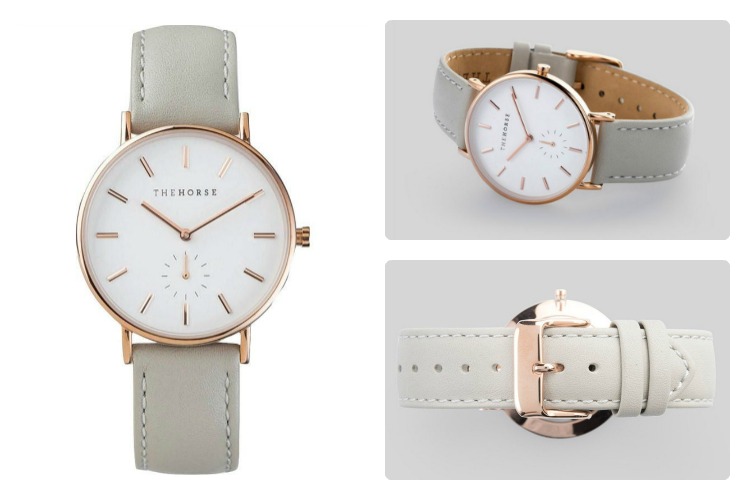 The Horse
The Horse: Classic Rose Gold Watch in White/Grey
Based in Sydney Australia, The Horse is known for their classic, go-to leather pieces designed to look great with any wardrobe. The Classic Watch boasts a rose gold case, a white face, and minimalist markers. The grey Italian Calf genuine leather band highlights accentuates a casual style, making it perfect for anyone looking for a watch that will go with any outfit or occasion. 
40mm Picto Analog Watch from Rosendahl
Rosendahl: Blue 40mm Picto Analog Watch in Gold/Dark Brown Leather
Featuring a blue dial, gold case, gold hand, and a brown leather band, the Rosendahl Analog Watch is both wearable and a piece of art. Steen Georg Christensen and Erling Andersen crafted this wristwatch with the intention of maximizing focus on the minutes, rather than the hours. This watch displays the hour with a dot on the rotating dial while the prominent minute hand ensures precise time-telling. Experience extremely accurate punctuality with Rosendahl.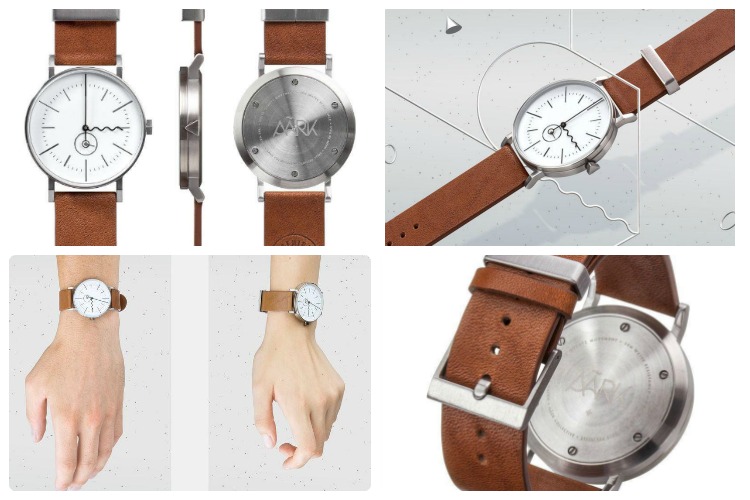 AÃRK Collective: Tide Watch in Silver
The Tide Watch by AÃRK has a unique design with the hour hand reminiscent of a wave pattern. For those looking to make a subtle statement without sacrificing functionality, this classic watch checks off every requirement. The watch features a brushed stainless steel outer case, raised indexes, a US tannery Horween leather band, and sapphire-coated mineral glass driven by a Swiss Quartz movement.
Spartan GPS Watch from Suunto
Suunto: Spartan Trainer Multisport GPS Watch in Steel
Intensify your athletic routine with Suunto's Steel Spartan GPS Watch. With 80 sports modes pre-installed, this activity tracker follows speed, distance, pace, and altitude for whatever sport or exercise you are into at any given moment. The LED lighting system on the back of the dial tracks your heart rate and blood flow to display analytics for monitoring recovery and health. The watch can even be worn overnight to track your well being as you sleep. On top of the many high tech features, the Suunto Spartan Wrist Trainer has a stylish design and is lightweight and comfortable, making it optimal for sports and daily wear.
Oblong Watch from bulbul
bulbul: Oblong 08 Watch in Matte Golden Steel on Golden Milanese Mesh
The Oblong Watch by bulbul combines precise Swiss construction and contemporary minimalist Danish aesthetics to create a high-quality timepiece that caters to the modern individual. Stripped of everything extraneous, the Matte Golden Steel Watch exemplifies refined fashion. Crafted with sapphire crystal and a Swiss gold plated movement, you can expect to be the best-dressed in the room with this polished and pristine accessory.
B36 Watch from Lum-Tec
Lum-Tec: B36 Watch
A classic watch that become fully visible in darkness, the Lum-Tec B36 Watch is great for your various adventures and in the nighttime. This watch is hand-assembled in Ohio and comes with both a green leather strap and a black nylon strap, giving you full range of styling options. This timepiece is built with durability in mind, including 43mm Surgical Grade Stainless Steel and Titanium Carbide black PVD hard coating. With its ability to illuminate all night long, you can easily see the time during the darkest hours. Additionally, it is water resistant up to 200 ATM, making it an ideal choice for the outdoors enthusiast.
Max Bill Automatic Watch from Junghans
Junghans: Max Bill Automatic Watch in Black Calfskin
As an iconic German timepiece brand, Junghans brings together traditional workmanship and technology with innovative design and precision. In 1961, legendary designer Max Bill created a series of mechanical watches for Junghans, and to this day, the line is mostly the same. The simplicity of the restrained case puts maximum emphasis on what really matters, the time. This automatic watch features a self-winding movement, luminous hands, and a polished white face encased in stainless steel with a black calfskin band. The beauty and sophistication of this incredible wristwatch is unparalleled and will certainly make a statement at any event.
Leave a comment
Comments will be approved before showing up.