Best Running Sunglasses: District Vision
With the certainty that mental wellbeing is the foundation of every form of physical exercise, District Vision designs sports sunglasses that are made to enhance performance and functionality simultaneously.

District Vision was founded in 2015 by Tom Daly and Max Vallot, two friends from college who moved to New York City and discovered the importance of running and meditation. From there, they became fascinated with developing tools to help runners perform at their highest potential. Their first experiment began over two years ago testing running glasses on different athletes in the city. The popular Keiichi running sunglasses were perfected by relying on both the athlete's feedback and Japanese technology.

The Mindful Athlete Program (MAP) focuses on providing an open-minded, non-dogmatic environment to explore movement and meditation. By offering exercises in breath-awareness and restorative movement, District Vision's program aims to help runners release tension, stress, and anxiety. Feel free to email studio@districtvision.com for more information on upcoming mindfulness programs.
District Vision Sunglasses Styles
Whether you're a marathon runner or you simply run from time to time to stay healthy, District Vision has a wide variety of sports frames that are perfect for every face shape and lifestyle. With a goal of reducing strain on the eye caused by physical exertion, the brand conducts experiments about eye protection and relaxation to allow athletes and explorers the opportunity to reach their full potential. Scroll to learn more about each style.
Keiichi Running Sunglasses
Nagata Speed Blade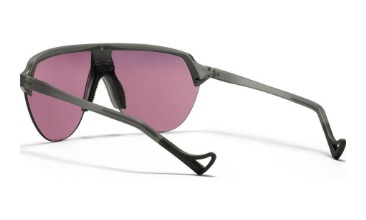 Kaishiro Explorer
Yukari Windshield
Nako
Junya Racer
District Vision Lens Types
As for deciding which lens is right for you, consider the light conditions you typically run in and how much sun exposure you are accustomed to while outside. Check out the four lens types that District Vision has created to optimize visibility and keep your eyes protected.
District Sky G15 Lens
The District Sky G15 lens provides maximum sun protection while allowing 11.57% light transmission. The lens is made in Japan and has been tested by numerous New York City-based athletes. The lens has a black tint, making it sleek-looking and versatile.
District Black Rose Lens
Ideal for trail running and other activities with changing light conditions, the D+ Black Rose lens is an advanced sports lens that enhances visibility because of variable light transmission, which can change from 15.6% to 35.15%. If you like to change up your routine, the District Black Rose lens gives you protection and comfort in pretty much any light condition.
D+ Water Lens
District Vision's D+ water lens was designed for those who are always around water. The lens blocks all reflected light and direct sun rays. Protecting our eyes to the full extent is extremely important, as every time we expose our eyes to sunlight, they become increasingly sensitive.
District Sports Yellow Lens
Great for sunset and sunrise runs, District Sports Yellow is a shatterproof polycarbonate lens that can make the environment look brighter than it is because of its high light transmission. If you continually find yourself outside during low light conditions, this lens will surely optimize your training.
Check out Sportique's full District Vision collection now. 
Leave a comment