8 Essential Things to Pack for Traveling
Photo Source:
Unsplash
"Preparedness is the key to success and victory." — Douglas MacArthur
Are you forgetting something?

When packing for a trip, creating a list of important items is necessary.  That's why we've included a complete travel packing checklist provided by our friends at Upgraded Points — so wherever you're headed to, you'll be prepared for any occasion. ( Continue reading to see our 8 must haves for traveling)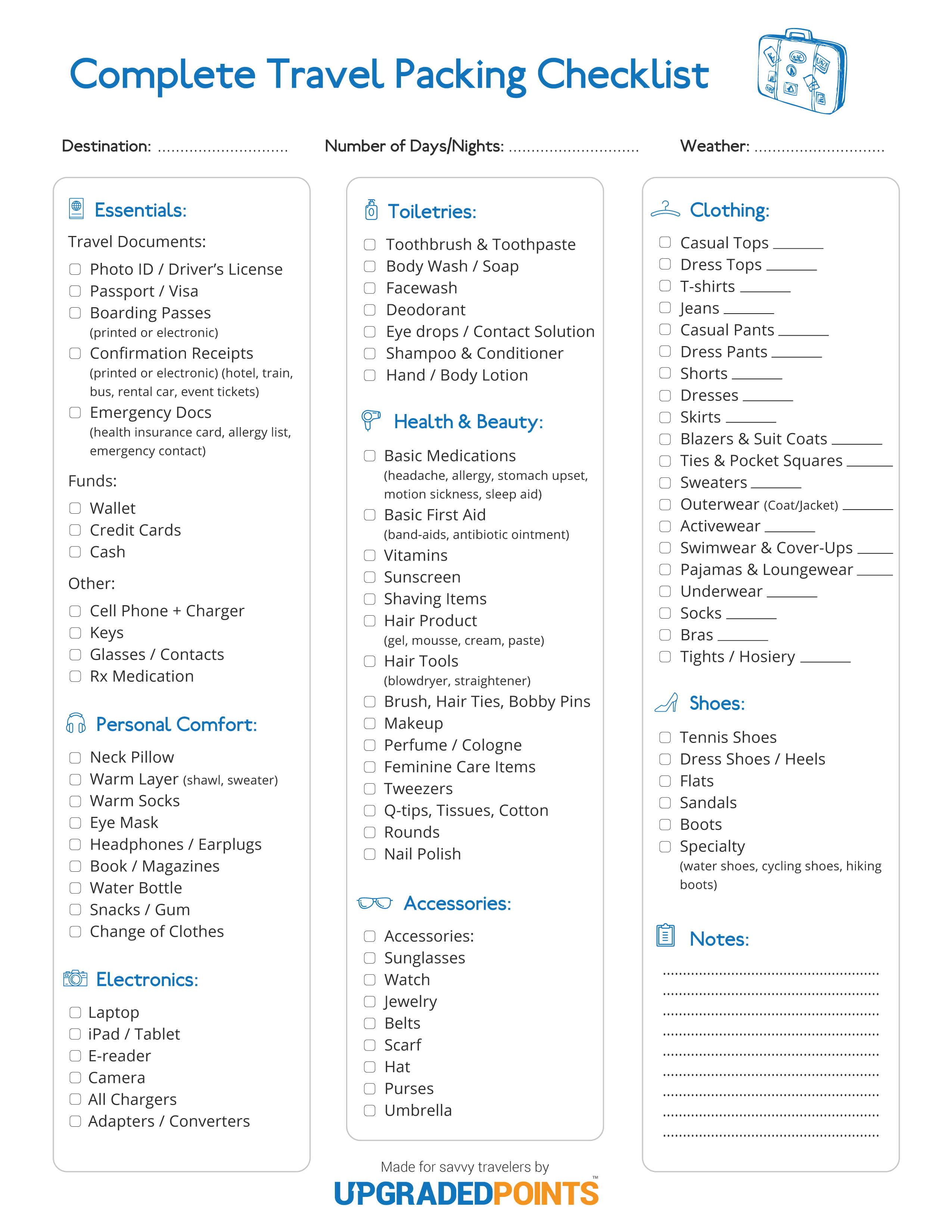 Click To View UPGRADEDPOINTS Printable Travel Packing List >>  
8 Essential Things to Pack for Traveling
We've carefully selected these travel essentials for you so you can relax and enjoy your journey.
Digital Watch
Wireless Headphones
Lip Balm
Sleep Aide
Lightweight Jackets
Backpack with Padded Straps
Fanny Pack
Functional Messenger Bags

We recommend the Braun BN0046 Black Digital Watch because it is sleek with a thick black plated stainless steel case with an easy to read electro luminescent digital display. 
Since traveling requires a lot of movement, you're going to want a dedicated time piece for when you travel.  During those hectic moments at an airport, on the plane or during your ventures in foreign lands, you don't want to be reaching in and out of your pocket for your phone to tell the time.  You're going to want to save your phone's batteries for more critical things like boarding passes, ticket/travel information.
Related: 5 Apps to Enhance your Active Lifestyle

Wireless headphones are essential for travel. You don't want to be worried about unwinding tangled cords.  The BeoPlay H5 Bluetooth Wireless In-Ear Headphones in Black are designed for maximum comfort and portability without sacrificing pristine sound. Featuring the renowned balance and clarity of Bang & Olufsen Signature Sound, they also offer excellent battery life for those long days on the go.

Chapped lips is one less thing you'll have to worry about.  Use lip balm to protect your lips and lock in moisture.
During your travels, you'll experience changing weather conditions, different altitude levels which all affect the moisture of your lips.  It's something we tend to forget about that is worth mentioning.  The Repairing and Conditioning Lip Balm from Province Apothecary is a great combination of oils that soothe and energize your lips during those long flights, cold mountain treks and all the different adventures in between.

 When traveling, trying to sleep in an unfamiliar place or experiencing jet lag can cause anxiety, stress, sleep deprivation and fatigue.
Use the Sleep Well Therapeutic Roll On after a long day of traveling so you can relax and go into a peaceful sleep. The Lavender will help anxiety and slow down your heart rate, allowing you to reach a peaceful sleep. The Petit Grain will ease your tension and balance your nervous system to promote restful sleep.

 The first thing you should look for in a jacket is a zip pocket so you'll have quick access to your wallet, passport, phone, etc.  The Filson Ridgeway Fleece Jacket has three pockets perfect for on the go travel.  Another thing to look for in a jacket is functionality and warmth.  This fleece jacket is lightweight, quick-drying and is both warm and breathable for comfort in mild to cool weather.  A must have for plane travel.

If you're looking for a traveling backpack, look no more.  The Harvest Label Rolltop Backpack 2.0 features three outer pockets, three internal pockets and rear access to the internal compartment.  The Harvest Label Backpack is finished with a padded air mesh rear panel and shoulder straps for ultimate comfort.  If you're going to be backpacking or carrying your bag for long hours, Harvest Bags ensures the weight is spread out and allows you to be hands-free while navigating your travels.
Related: The 10 Best Commuter Backpacks for the Everyday Professional

Bringing your backpack as you travel sounds ideal until you've been walking around for 3 hours and realized that you didn't have to bring everything with you.  It's important to have a small and secure bag to carry your important things while lightening the load off your back.
The Avenue Dee fanny packs were made to allow you to travel lightly.  A perfect combination of practicality and style.  These bold and affordable waist bags are hand designed, well constructed and perfect for organizing your passport and other currencies. 
Be confident and comfortable during your next getaway with Nomatic's Traveler Messenger Bag.  Its combined signature sleek designs and functional features are reasons why we've included them in this list.  Made with durable waterproof materials and high technology.  The removable panels allow you to customize the bag to meet your needs from weekend getaways to longer travels. An additional magnetic water bottle pocket, RFID safe storage, and a roller luggage sleeve are just a few of the features that make this messenger bag the most functional messenger bag for your travels.

While our inspiration was originally rooted in the outdoors and active lifestyles, we've learned from our customers that their passions extend beyond. Our collection of brands and products has evolved to encompass the entirety of lifestyle. From standard commutes and routines, to spontaneous and extended travel, find a solution you've been seeking, or one you haven't. The journey to get there is well worth it.
Leave a comment