Curious about Craighill? Objects That Ignite a Sense of Wonder.
Craighill is a New York design company with their studio based in Brooklyn.  Creating objects for your work, leisure and yourself, designer and design director, Hunter Craighill, describes what he makes as "objects that ignite a sense of wonder."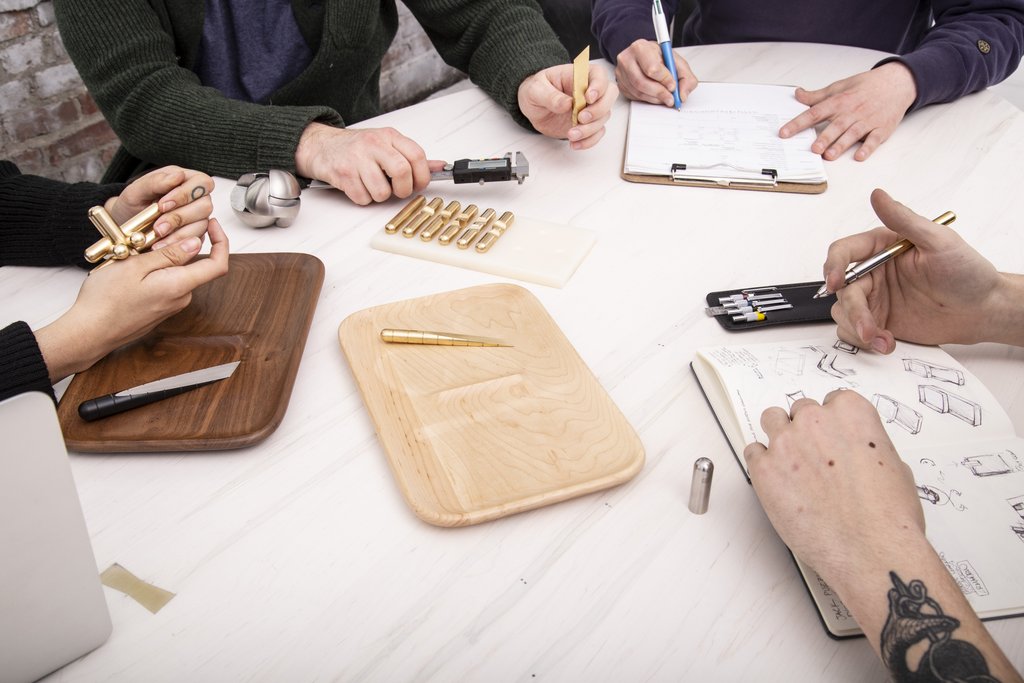 Source: craighill.co
With a focus on creating distinct and useful objects for you and your home—they have a wide range of products that use many different materials. The design of their products explores the possibilities and is driven by personal curiosity, industrial experimentation and basic utility.  Each product is well-designed, perfectly functional and tells a story of its creation and potential.
They believe that understanding more about how a product is made, and the reasons behind its design decisions, can increase appreciation for it and discourage a culture of consumption and waste.  Our wide array of products are informed by the specific production capabilities of our manufacturing partners, and unified by a design philosophy that marries efficiency and exploration. 
Learn more about Founder and Design Director,Hunter Craighill, in the thoughtful & insightful feature at Surface Magazine
Well designed products should tell a story about their creation and their potential — and by exploring those stories we hope to enrich the lives of the people we reach, and illuminate the magic of the world around us."
Source: Craighill, About Us
Our Favorite Craighill Products
Craighill Wilson Keyring
The Craighill Wilson Keyring is beautifully designed to secure your keys.  A simple and efficient keyring.  Holds more keys than you will likely ever own.  Perfect for multiple keys.  Great as sentimental gift for a new car or home key.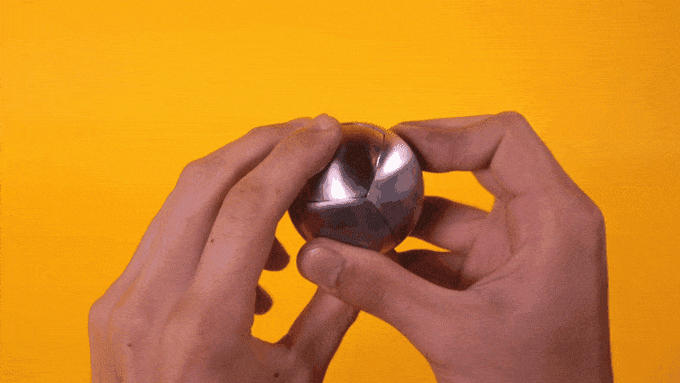 Source: kickstarter.com
Craighill Venn Puzzle
"A kickstarter favorite. The Craighill Venn Puzzle in Stainless Steel is a beautiful mechanical puzzle comprised of three identical pieces. Each piece is die-cast in stainless steel that makes up one-third of the sphere by volume. Challenging and intriguing puzzle for a beautiful desk accessory. Keep it on a desk, shelf, or coffee table as a decoration, game, or paper weight."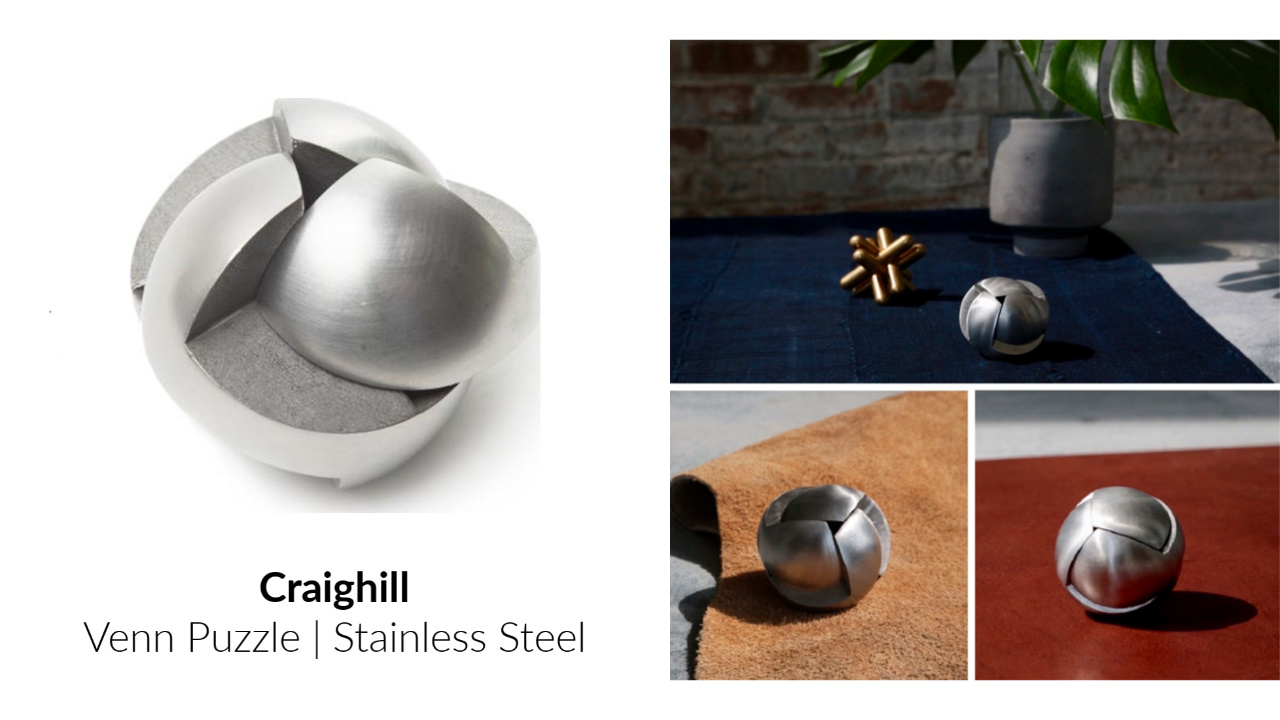 Source: kickstarter.com
Craighill Desk Knife Office Tool
"A multipurpose cutting tool designed to live at your desk and never be out of reach; the Desk Knife from Craighill draws inspiration from the Japanese kiridashi knife and is crafted using one solid piece of stainless steel. Although the Desk Knife boasts twice the functionality of any old letter opener, it's unique form offers a feel that more closely resembles that of a writing utensil. Comfort, utility and attractive aesthetics - the Desk Knife is elemental and satisfying to use."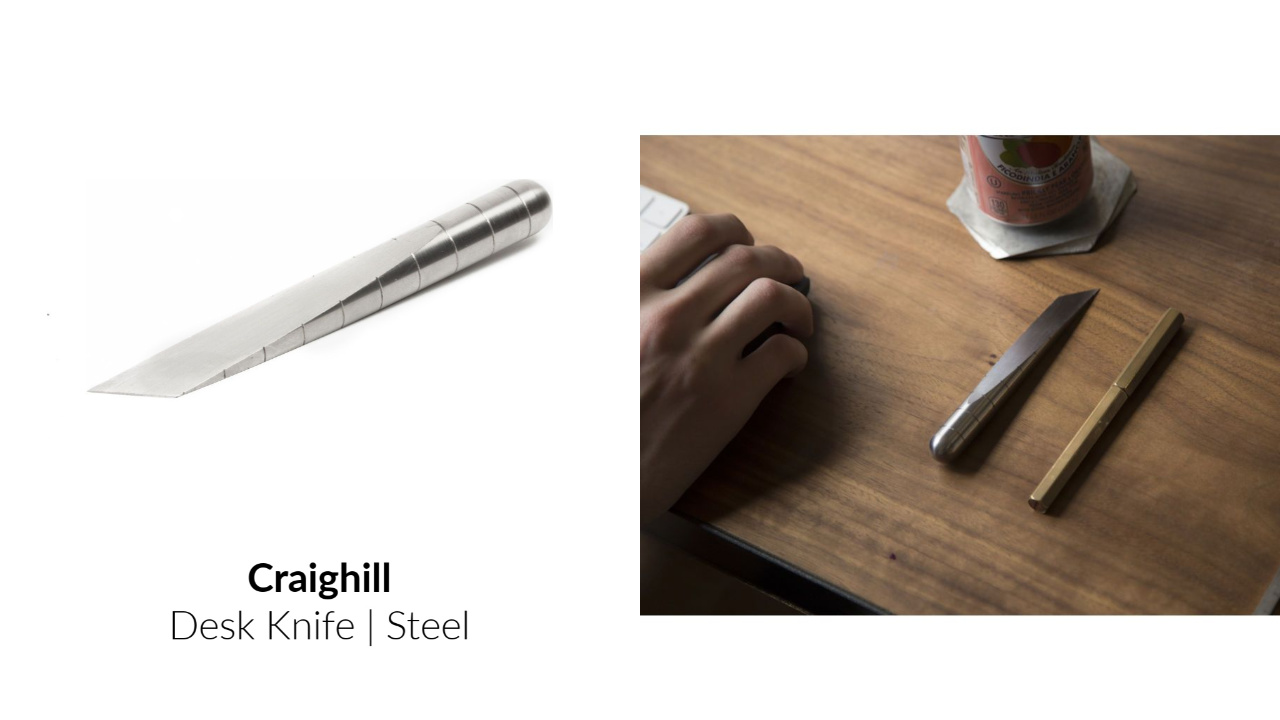 Craighill Closed Helix Keyring
"The Craighill Black Carbon Closed Helix Keyring is a timeless design. This is a helix-shaped brass wire with turned end-caps. Simply unscrew the knurled side to add or remove keys."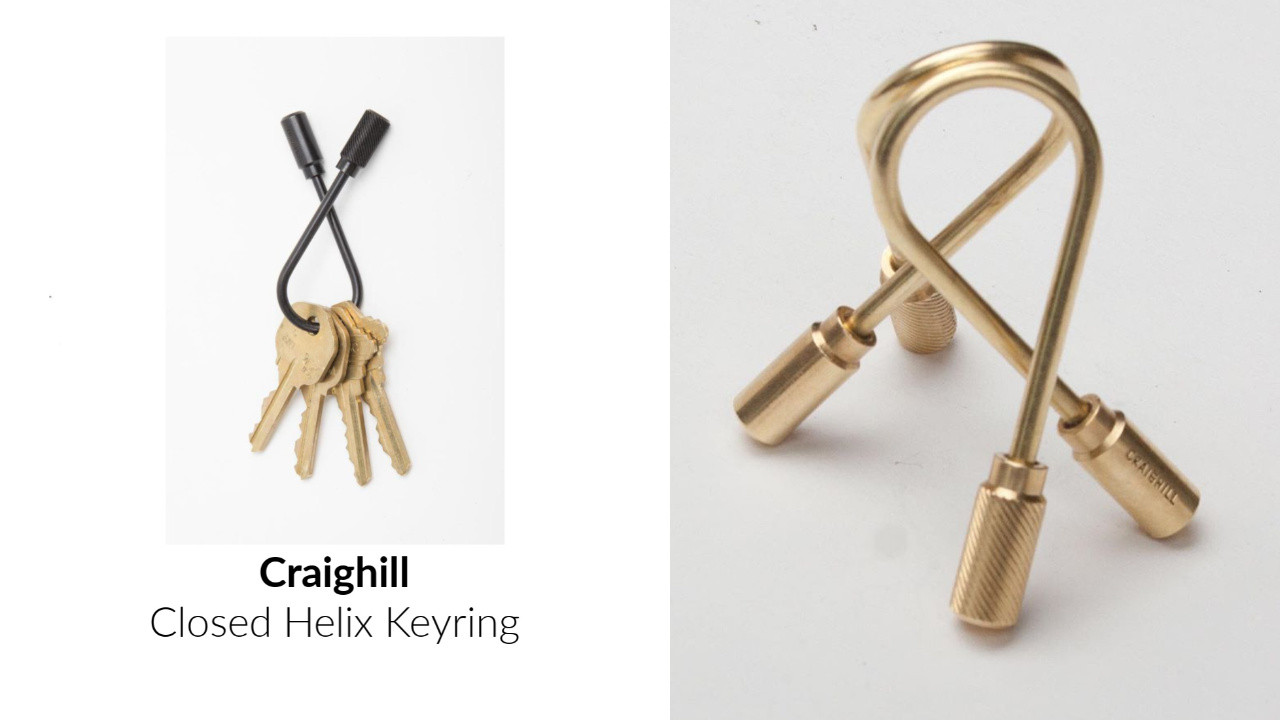 Craighill Jack Puzzle
"Compromised of six notched brass bars that interlock in one specific way, this Craighill Jack Puzzle can be used for entrainment, decor or even a paperweight. It's milled by a skilled machinist in Massachusetts, and it weighs one pound. Consider yourself warned, if you take it apart, you might not be able to figure out how to put it back together…"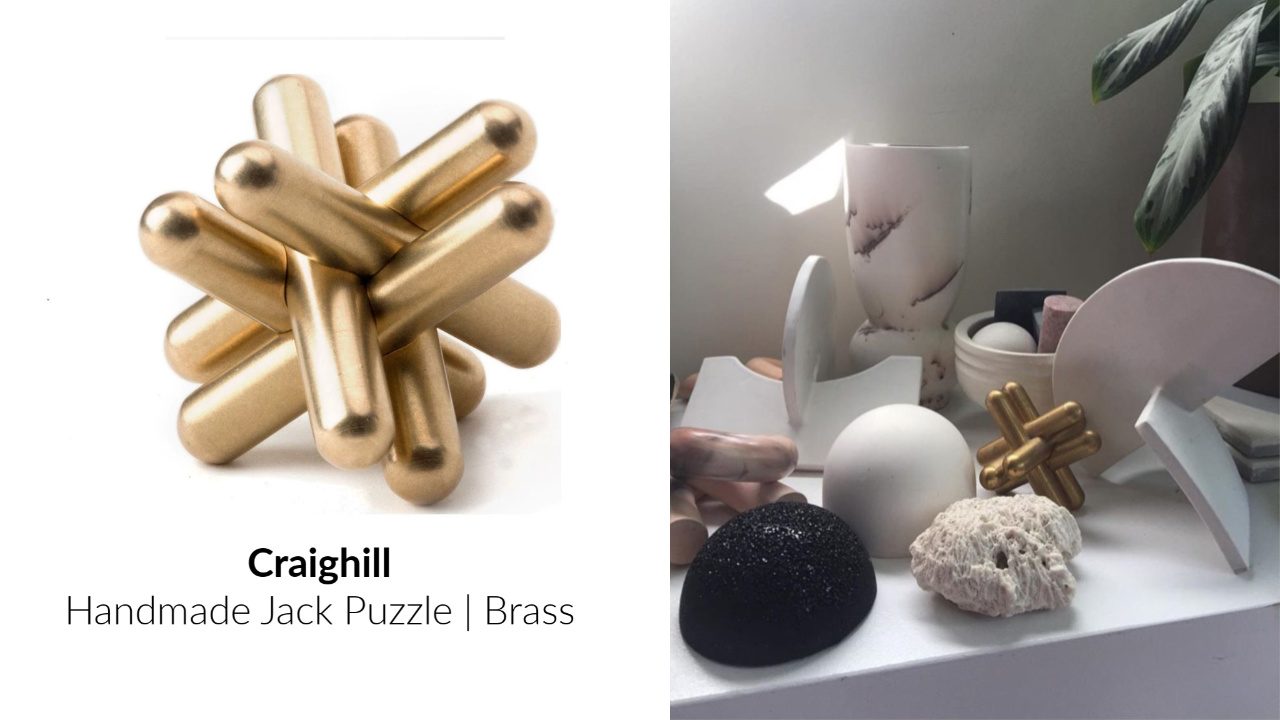 Source: Instagram.com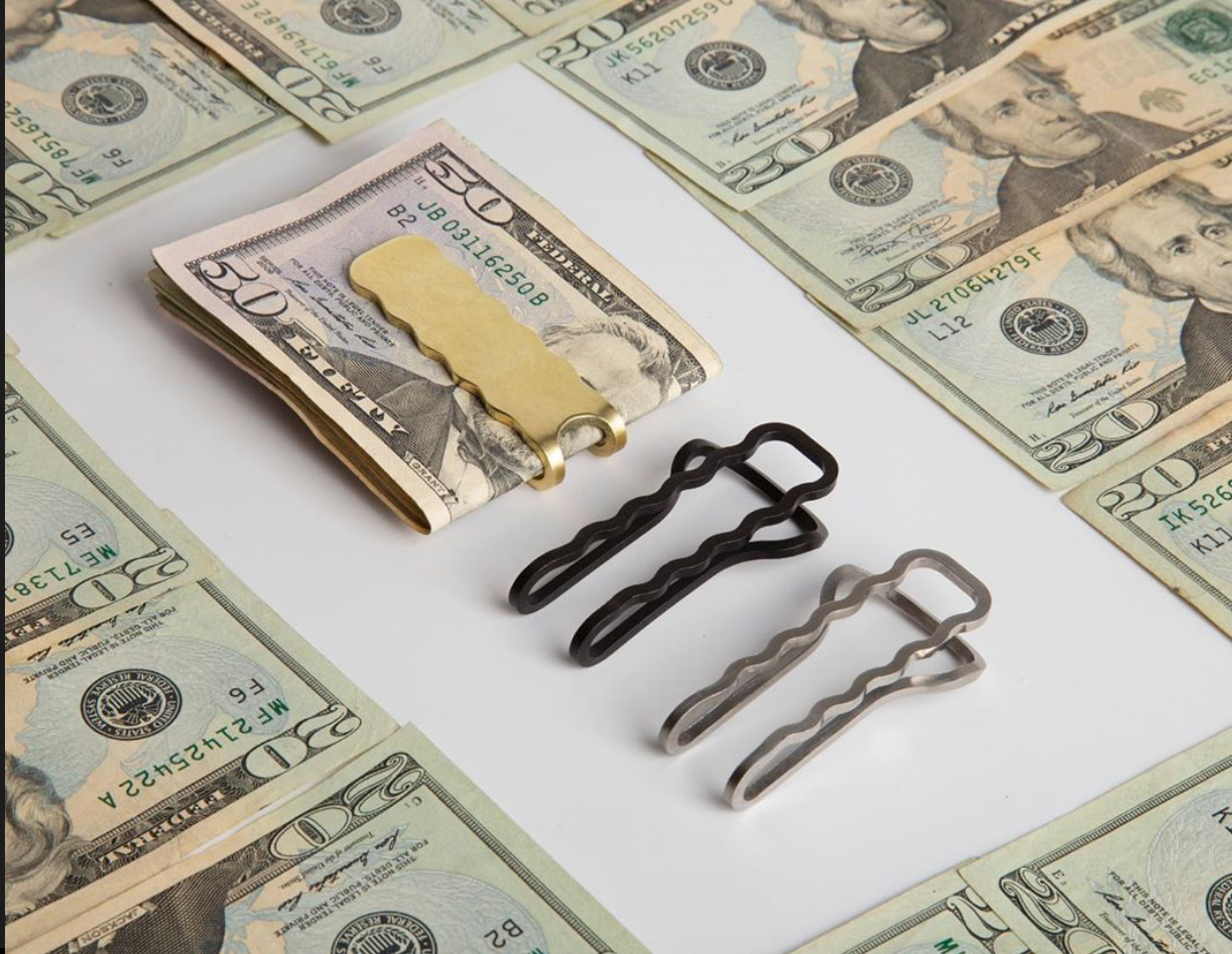 Source: Instagram
Money Clips
"The Square Money Clip is a functional and classic design. Made of solid Brass it is extremely durable to withstand everyday use. This Brass money clip maintains a slender frame for a no bulkiness wallet to carry all of your valuables."
"The Wave Money Clip is a functional design. Made of solid stainless steel it is extremely strong. This Carbon Black money clip maintains a slender frame, no bulkiness necessary."
Uniform Square Cuffs
"The Craighill Brass Uniform Square Cuff is a classic piece. It is a cold-formed cuff bracelet that features a stamped logo. This timeless design comes in two sizes."

Leave a comment