Top 5 Functional Bags | Nomatic

The most functional gear, ever.  Upgrade your travel bag.
If you're seeking a functional bag for business or travel, we have a list of our top 5 functional bags for you.
Created so you can live confidently— no matter where you're going.  With specially crafted pockets and unparalleled features, NOMATIC knows their products will help you get wherever you want to go.
Nomatic bags are  quickly becoming a product known for its highly functional travel bags and its exceptional quality.  They create the most functional gear ever, to inspire confidence for life on the move. 
We love Nomatic because of their multipurpose features.  Every item has a home even when you're away from home.
Learn more about our 10 Best Commuter Backpacks for the Everyday Professional
Guaranteed to keep you on the move with style and confidence; Nomatic's Travel Backpack is a sleek, functional companion for your weekend getaways and 2-3 day adventures. Boasting sophisticated internal organization, the Nomatic Travel Pack features a removable mesh divider, shoe compartment, and a TSA-ready laptop sleeve. A subtle external zipper always this bag to expand entirely; raising its capacity from 20 to 30 liters. It may be hard to believe, but we have only scratched the surface of what this bag can do. Features like hide-able back straps, a key leash, magnetic water bottle pocket, an RFID pocket, and waterproof construction truly set the Nomatic Travel Pack head and shoulders above the competition.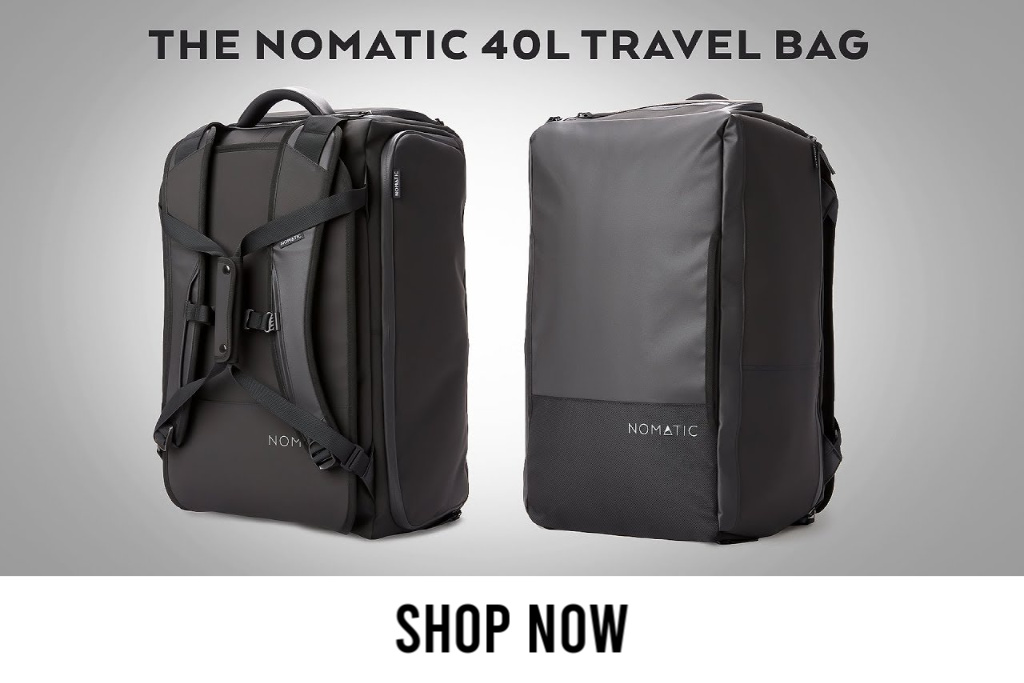 The travel duffel that raised over 3 million: Nomatic's Travel bag is carefully crafted to inspire confidence when your life is always on the move. With over 40 liters of storage and two innovative ways to carry (on your back or in your hand) this travel duffel is the epitome of versatility. Loaded with 20+ innovative features like a laundry bag, shoe compartment, underwear/sock pocket, padded laptop compartment, and an RFID safe pocket; the Nomatic Travel Bag is ready for anything your adventures can throw at it. Complete with a waterproof exterior, this duffle pack has all your bases covered.
Nomatic's signature sleek designs and functional features are combined in this everyday travel messenger bag. Made with durable waterproof materials and high technology. The fast removable Fidlock™ strap allows you to go from shoulder to briefcase carry for those times when you need to look more professional. Removable panels allow you to customize the bag to meet your needs from weekdays to weekend. An additional magnetic water bottle pocket, RFID safe storage, and a roller luggage sleeve are just a few of the features that make this messenger bag the most functional messenger bag ever for everyday convenience! Be confident during any occasion with Nomatic minimalist design and packed functionality messenger bag.


Each NOMATIC Messenger Bag includes 2 customizable panels, allowing you to decide what and how you carry.  As you can see below, the dividing walls on the compartments panel can be adjusted to fit your needs from day to day.

The NOMATIC Vacuum Bag is the best way to pack more in less space. Using the air valve, you can compress clothes and soft goods to condense their overall volume, no vacuum needed. The Vacuum Bag also makes a great place to put wet or dirty gear while traveling to keep your other valuables clean and separate.

The NOMATIC Carry-on Pro and included Tech Case were designed to make your journey seamless by giving you easy access to everything you need while you travel and giving you a bag for daily use when you arrive at your destination.

Leave a comment
Comments will be approved before showing up.