4 Winter Moodboards | New Year, New Feng Shui
Some great ways to openly invite a seasonal change into your home is getting inspired by the different textures, patterns and energy in your surrounding environments-- be it the rush of the wild outdoors, the crisp air from a weekend ski trip or the cloudy grays of winter in San Francisco.
Creating a moodboard is the perfect opportunity to gather your thoughts & ideas into a visual collection.
What is a moodboard?
Moodboards are an arrangement of images, texts, materials, ideas, etc. intended to evoke a specific concept or emotion.
If you're inspired to get started on your fall inspiration, the best way to begin is to utilize Adobe Color.  The adobe color experience is perfect for capturing the color pallete, pulled from your own images.
Try out the Adobe Color Experience for yourself.
In the spirit of a new season, we've put together 4 winter moodboards to inspire you to invite the seasonal change into your home & wardrobe.

If you're an urban dweller, carry the comfort of home wherever you go. 
One of our favorite brand's this season is Nomatic.  Their driving passion stems from their desire to create the most functional gear ever.  Each item is crafted with versatility in mind; whether at the board room or the beach Nomatic is sure to boost your confidence and start the year off right.
What Bag is Best for Traveling, Nomatic travel bags or Douchebags... read more
Surround yourself with earthy greens and bring in shades of nature into your home.  Take a deep inhale of the world around you and make space for some plant friends. 
The Michiko Shimada Terracotta Pouf Planters are great for your outdoor patio or inside in your living room to add some life and color to the space.  Or bring some fun into your living space with Lorena Canals MONSTERA leaf washable rug.  It is perfect for children's room, for girls and boys to play on.  This rug is unique and brings serenity into your home in a fun way.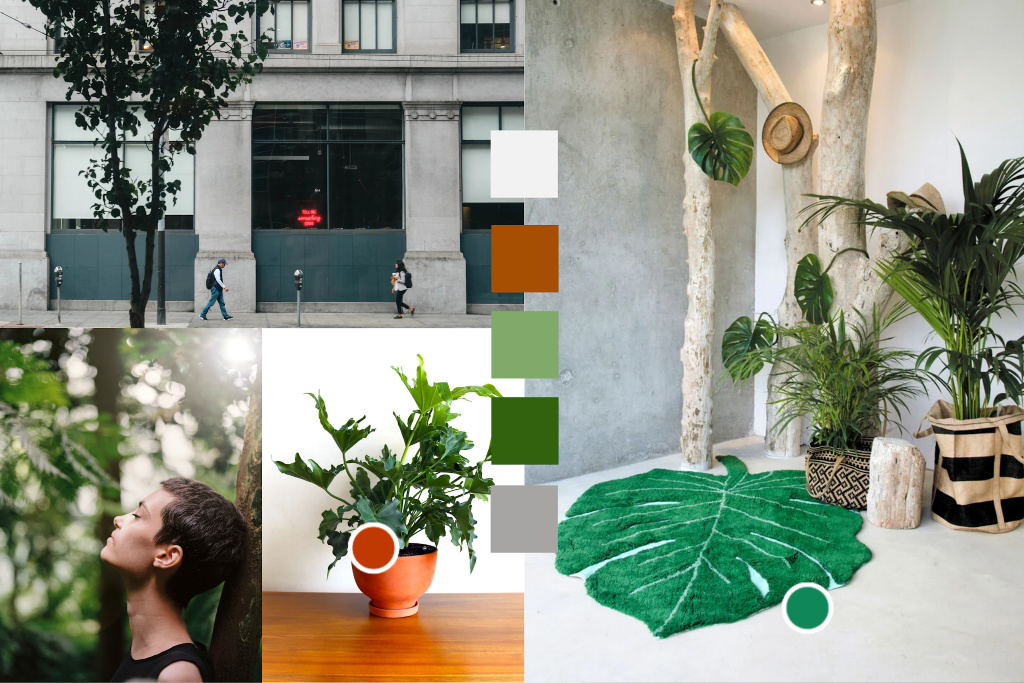 Photosource: Unsplash

Take a breathe of fresh air on your next weekend getaway.
The Weekend Bag is Rains' interpretation of a classic travel bag. This essential Rains bag is made from a matte, waterproof fabric and completed with a water-resistant zipper and matte hardware. 
Another weekend ready must have we've included in our moodboard is the faded navy Amundsen Sports Men's Peak Anorak Jacket.  It's an ideal choice for ski touring and expeditions small and big.
Inspired by the many shades of blue on a cold winter's day.  Bring in the cool tones into your home and feel the air change with the season.
Turn up the glam with the uniquely designed sea blue & gold Magnolia Chair by TOV Furniture.  This gorgeous sea blue chair sits on a gold frame and stuns from any angle.  Versatile enough for just about any room in the house.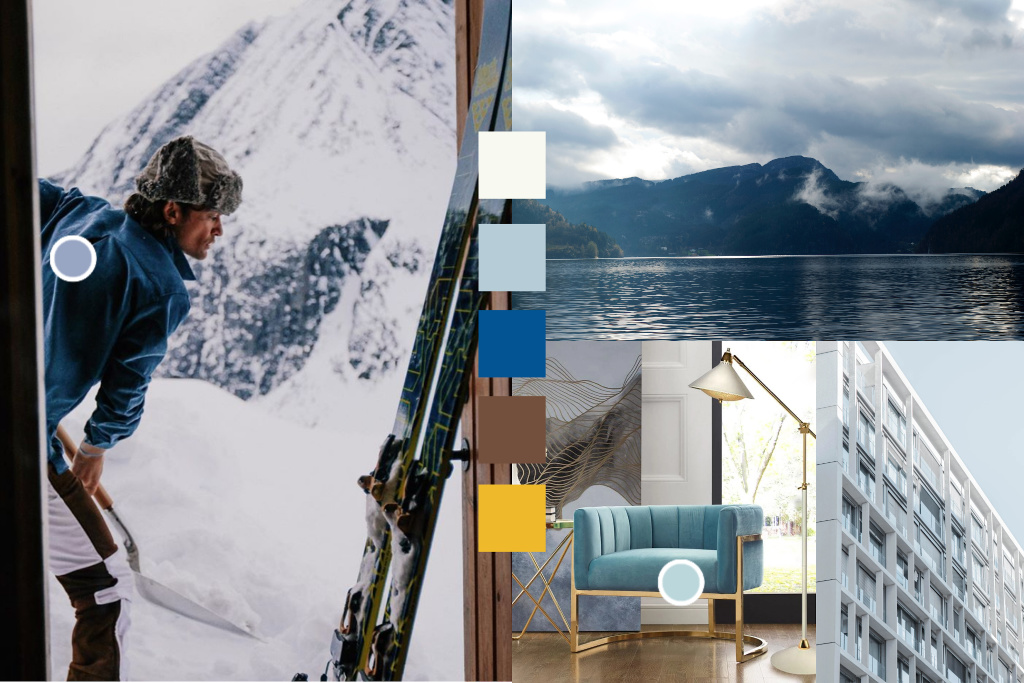 Photosource: Unsplash

It's all in the details.  Inspired by modern minimalism and the sturdy slabs of grey.  Add sophistication and concrete statement pieces into your living space to start the year on solid foundation.
Create a focal point with the Concrete/Copper Camino Clara Clock. Hang this clock on the wall to finish off any space. Functional and stylish it has copper accents that are sure to stand out. It is simple and has elements of classic Nordic styles. 
Another fun, stylish and concrete home accessory is the Lyon Beton Gray Matters Brain bookends.  Their concrete build means they can support even the heaviest books, along with satisfying your quirkiness and love for minimal design.
Keep it contemporary and sophisticated with the Petra Coffee Table from TemaHome.  Its geometric silhouette and concrete look tabletop paired with black metal legs offer a creative and refined aesthetic that is sure to complement any space.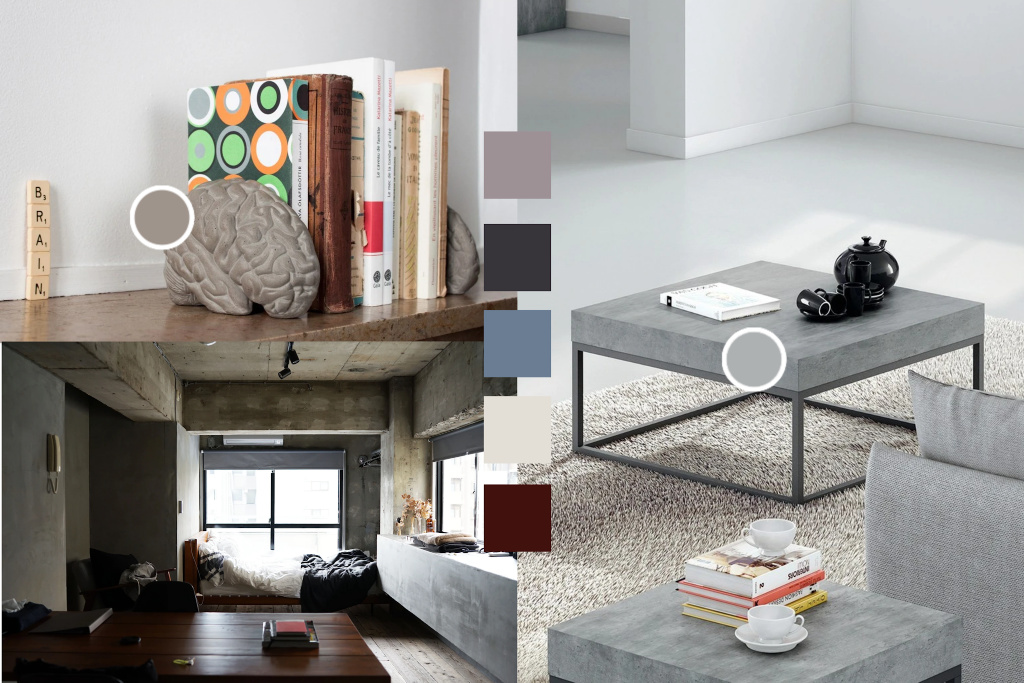 Photosource: Unsplash

Be a little daring this new year by adding splashes of red into your home.  Classic, simple and functional pieces are always sure ways to freshen up your home.
The Scarlet Red Base 15L Daily Urban Backpack is crafted to remind you to be bold and get what you want out of life, serving as our main inspiration for this adventurous moodboard.
Share your sophistication with bold and bright artwork and functional home  pieces.  
In La Mela, Mari fills the simple outline of an everyday apple with rich and vibrant colors that get deeper as you gaze longer. Part of the Nature Series, "La Mela" (1963) is silkscreened and unframed.  Shop the Enzo Mari by Danese Milano Uno, La Mela Poster | The Red Apple now.
A colorful and functional storage box, the Berlin Storage Box in red is the perfect addition to most TemaHome shelving systems.  Use the Berlin Boxes for extra storage, to hide your extra knickknacks, or to add a pop of color to any room.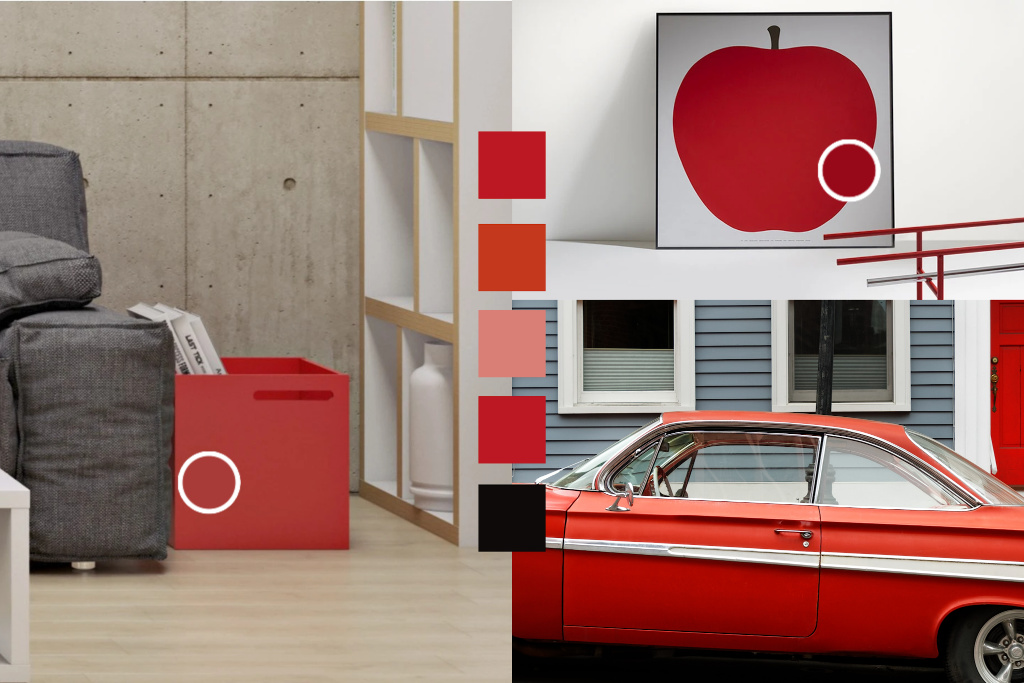 Photosource: Unsplash
Leave a comment