The Ultimate Holiday Gift Guide for Men

From outdoor gear to classic accessories, there's something out there for every man on your list this year. Whether your buying for your husband, boyfriend, father, brother, or friend, we have great gift ideas that are sure to make holiday shopping much simpler. 

We've compiled a list of our favorite gifts for every man in your life. With the holidays quickly approaching, scroll to find a unique gift that he will love.
Canvas Cruiser from Filson
Filson: Canvas Cruiser Jacker in Warm Tan
If you're looking for outdoor gear with the highest quality, Filson is the absolute best. The iconic brand has been crafted in the United States for the past 120 years. The Canvas Cruiser Jacket is a great gift for any man who spends a lot of time outdoors and needs a durable jacket for long-term wear. The utilitarian jacket is durable, breathable, and water-resistant.
Classic Polo from Lacoste
Lacoste: Regular Fit Pima Cotton Interlock Polo
Every man needs a classic polo in their wardrobe. This Lacoste polo is available in a variety of colors and is made from soft pima cotton. Great to pair with jeans or khakis, the Regular Fit Interlock Polo is both comfortable and stylish. Lacoste is a classic brand that never goes out of style, making it a great gift idea for any man in your life, no matter his age or build.
Max Bill Watch from Junghans
Junghans: Max Bill Hand-Winding Watch in Black Calfskin
The Jungans Max Bill is an impressive and iconic timepiece known internationally for its aesthetic design and precision. Specifically, the Max Bill Hand-Winding Watch in Black Calfskin is a very elegant accessory with a modern display and black calfskin strap. Additionally, matte silver hands have luminous "Super Luminova" substance and the watch is waterproof. For someone special in your life, a Junghans timepiece is an incredible piece to give and show your love and admiration.
Knife from The James Brand
The James Brand: Folsom Folding Knife in Bone/Black Straight
The Folsom Knife is designed with utility in mind with a robust and intuitive build that makes use extremely simple. The blade is made from Carpenter CTS-BD1, corrosion-resistant and easy to sharpen and keep up. Suitable for both hands, the knife has an ambidextrous blade opening slot and reversible clip.
Aviator Sunglasses from Randolph Engineering
Randolph Engineering: Aviator Matte Chrome Sunglasses in Blue Sky PC Bayonet
Randolph Engineering originally built their classic Aviator style for the U.S. Military, surpassing rigid mil-pec standards. Made in the USA using the finest materials available, these Matte Chrome Sunglasses a. are built to last a lifetime (solder joints have a lifetime warranty). The signature bayonet temples designed for military pilots are both stylish and wearable, fitting well on every face shape.
Cologne from Ranger Station
Ranger Station: Men's Eau De Parfum in Leather and Pine
The exquisite scent that smells of pine and leather in Ranger Station's cologne is created to make anyone feel closer to the outdoors, no matter how far you've strayed. Base notes of warm leather oil and heady Frasier fir cascade across a heart of cedar wood and saddle soap, resulting in a clean, inviting aroma with a touch of tree sap sweetness. Additionally, the Eau De Parfum comes in a classy bottle that will look incredible on any bathroom counter.
Wally Shoes from Hey Dude
Hey Dude: Wally Sox Shoes in Black
A fun present that is designed to be a great shoe for all occasions, Hey Dude's Wally Sox Shoes are comfortable and light. The shoe's chukka-style shape combined with HD's Flex & Fold sole system undeniably make them one of the most comfortable shoes on the market. The Sox version has a unique bi-component knit and two lacing options.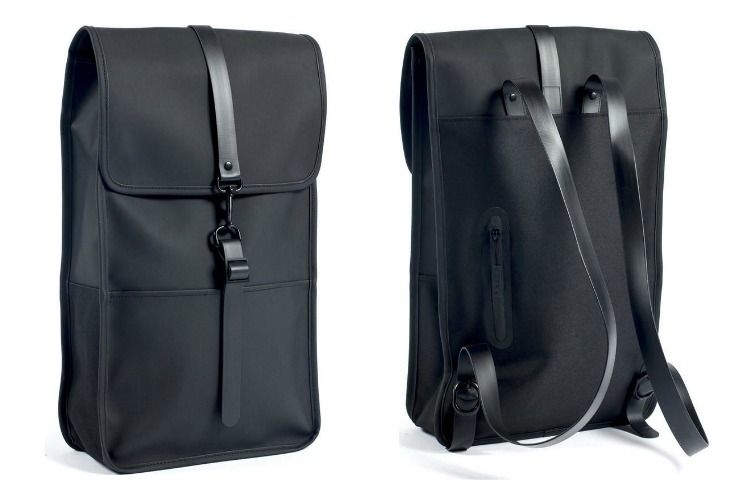 Rainproof Backpack from Rains
Rains: Waterproof Backpack in Black
The Rains Backpack exemplifies simplistic Scandinavian design with a perfect balance of style and function. One of the best features of the standard Rains backpack is the inside laptop pocket, keeping your computer or tablet both secure and waterproof. Featuring one main compartment, this well constructed bag features a fold-over top with a single-hook closure. The double adjustable shoulder straps allow for comfort and ease of carrying for any length commute. Finally, a hidden pocket with waterproof zipper on the backside of the bag is perfect for easy access to your phone, or any other daily carry items. Keep up your professional style and stay ahead of the weather with a little help from Rains.
Performance Watch from Garmin
Garmin: Fenix 5S Plus Sapphire Multisport GPS Watch in Black
For athletes and outdoor adventurers alike, the Fenix 5S Plus Series Watch is designed for high performance tracking, mapping, and music. This rugged, premium crafted smartwatch features routable color mapping, wrist-based heart rate monitoring, storage for up to 500 songs, and Garmin Pay contactless payment solution. Featuring a black dial and matching black silicone band, the performance watch surely has a sleek and athletic look.
Slim Leather Wallet from Nomad
Nomad: Slim Leather Wallet in Rustic Brown with a GPS Tile
A classic leather wallet that every man will love, the Nomad Slim Wallet in Rustic Brown boasts a pockets to carry 12 cards and a GPS Tile, which uses advanced Bluetooth and crowdsourcing location technology to help you keep track of your wallet at all times. Crafter with American-made Horween leather, this minimally treated, veggie tanned leather will look even better and more unique over time. With minimalist wallet designs gaining popularity, this holiday season is the perfect time to purchase an accessory from Nomad.
Leave a comment